Cesar and Lola are people who have attended the Lluvias Church for many years.  They had a burden for some people they knew in a new area of Oaxaca City.  They started a small group, eventually lead some people to Christ, and began discipling them.  The group has grown to about 30 people, and the building has been upgraded from just a simple roof to a totally enclosed building.  Different couples help with the church, and the outreach ministry that takes place.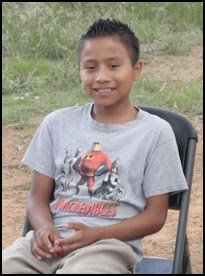 April of 2013, German came to the Children's Club.  He was a boy who had very low self esteem, could not read or write very well, wouldn't talk, and did not take care of himself.  Later, I found out that he did not live with his parents.  He was abandoned, with a father in jail in the United States.  His mom had immigrated to the States as well.  He only ate processed foods.
Recently, we celebrated his 11th birthday at church.  We gave him a cake, and praised God for the changes in his life.  In May of 2014, God brought back his father from the United States, who came to know Christ in prison.  On the 21st of June, his oldest sister accepted Christ as her Savior.
We thank the Lord for rescuing a child like him.  To Him be the Glory!
–Written by Lola from Cuilipam